Many of us have large travel and lifestyle aspirations for our families, so I wanted to share a travel tip that I've put to use for my own family last year. If you haven't noticed, Southwest has just added a bunch of international flights to beach, mountain, and island destinations like Puerto Rico, Costa Rica, and Belize. Here's a few tips that will let you fly there for wayyyy cheaper.
While this tip itself won't change your lifestyle, hopefully it'll give you to enough juice to be able to explore a few of these locations without breaking the bank. See what you like, start living a couple of your dreams, and allow you more room to chart your course ahead.
Of course, some people aren't comfortable with the tactics that I'm about to outline since they involve wise use of credit card bonuses and a bit of manufactured spending. So it may not be your thing either and I understand. But I thought I'd share anyway, just in case.

What You'll Need
Reasonable Credit (and Willingness to Use It)
A Good Plan (and Expenses You Can Pay With Credit Cards)
Goal #1: Southwest Points
Southwest Points are awesome because Southwest doesn't charge drastically more points even for far-flung flights. My wife and I booked honeymoon tickets last year to Costa Rica for 16,800 points each! (Plus $53.03 each in taxes and government fees, still not too shabby.) You can easily get this many points by signing up for one of Southwest's credit cards at the right time.
Southwest occasionally offers 50,000 Point signup offers on their credit cards. Like right now!
https://creditcards.chase.com/6000321. (Google "southwest chase plus 50,000")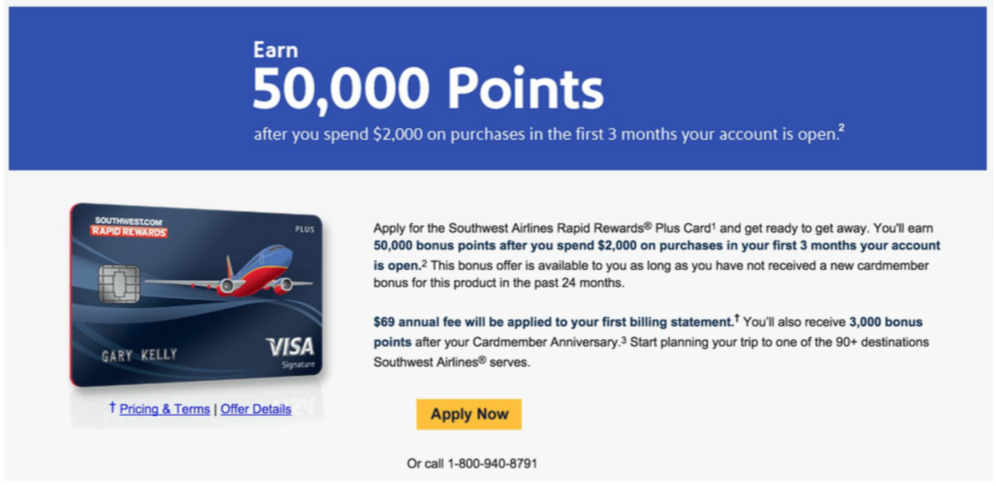 Disclaimer: even though this sounds like an ad for Southwest, I'm in no way compensated for it (other than the results described herein). Its really just an ad for you to keep living your life the way you want to!
This one credit card would give you enough points to cover the flights for two people to go on such a little adventure!
The down-side? You have to meet minimum spend requirements. For this card, that means you have 90 days to spend $2,000 on the card. This comes out to $667 per month of spending on the credit card. Depending on your current spending habits, just using this card instead of another (or cash, check, etc) for gas and groceries may be sufficient to meet this requirement.
Total Costs? $69 or $99 annual fee
Total Rewards? 52,000 points => Approx $868 in flights
Goal #2: Southwest Companion Pass
Are you familiar with the Southwest Companion Pass? It's the most awesomest airline perk out there. Once you've received the Companion Pass, you can signup a Companion to fly for free whenever you fly Southwest. If you sign-up your spouse or partner as your companion, then you'll be able to cut your flight costs in half! (Like with points, you still have to pay taxes and fees, but it's still great!) This perk lasts until the end of the year after you get it. Since we received ours in 2015, my wife can fly for free with me until Dec 31, 2016. No blackout dates, seat restrictions, etc.
How do you qualify for a Companion Pass? 100 Flights in One Year or 110k Points in One Year. Fortunately, 110k Points in One Year is do-able using Southwest credit card sign-up bonuses!
The Secret: you can apply and receive sign-up bonuses for multiple Southwest credit cards!
If you receive two Southwest cards with 50,000 point sign-up bonuses, once you've finished meeting the minimum spend, you're 104,000 points of the way there! (That's 50k points bonus plus 2k points for spending on each card.) Now you'll just need to make-up the remaining 6,000 points to reach Companion Pass Status. We'll get there.

Of course, getting the Southwest Companion Pass is simple in theory, but requires patience and/or the ability to meet a higher minimum spend.
Southwest actually offers four credits cards:
Chase Plus Personal
Chase Premier Personal
Chase Plus Business
Chase Premier Business
I wasn't sure if this would work initially, and it's a bit of a gamble. Since I didn't want to fuss with "business requirements", I only considered the two Chase Personal cards (#1 and #2). If you have time, you can wait until two of these cards both have a 50,000 sign-up offer. Luckily, at the time of this writing, both of them do!
https://creditcards.chase.com/a1/southwest/2rtfosam1 (Google "southwest premier 50,000")
When both offers came around, I signed up for both credit cards on the same day, one right after the other. And both were accepted!
Thus began three months of trying to spend $4000 on credit cards. That's $1334 each month. This may or may not be more than you currently spend each month using cards. Personally I don't spend nearly that much each month on my credit cards; my biggest payments are rent (which doesn't accept credit cards), groceries (at Aldi, which also doesn't accept credit), and public transportation (deducted pre-tax from my pay, and thus also doesn't accept credit). So I had to get a little more creative. We'll explore our options below.
Once you have the Companion Pass though, you'll have enough points for 6 international flights or almost 10 domestic flights for you and your spouse/partner! Now that's enough to do some serious exploring!
Creative Option #1: "Manufactured Spending"
Or making it look like you're spending money without actually costing you (much) money. This is definitely murky, experiment-until-something-works territory. How much you need to manufacture depends on your shortfall: the minimum spend minus how much money you can "naturally" spend on these cards.
I started out by finding ways to pay for rent and groceries with credit cards. The system that worked for me was a complicated pain-in-the-rear and stopped working a month or so after I reached minimum spend for both cards. Its a bit of an arms race between the credit card companies and the manufactured spenders, so the tactics here change regularly. Right now the best option is the Target Prepaid REDcard Debit Card. If you want pointers, I can happily provide them. But I suspect that you'd prefer Option #2…
Creative Option #2: Have Patience
Instead of getting both cards on the same day, it may be possible to apply for and receive one, meet the minimum spend on it, then do the same for the second card. I haven't actually tried this, but the Premier and Plus cards are coded as different cards in Chase's system, so it should be possible to apply for them at different times and receive both bonuses. The downside is that requesting them so far apart may ding your credit report twice instead of once. By applying for them at the same time, the credit bureaus may combine the requests into one. I haven't pulled a recent copy of my report to check if multiple inquiries are listed; however, I do see that my score dropped 7 points after I received both new credit lines. (It's since rebounded to within one point, but that may be due to other things, such as mortgage inquiries on the report.)
There's an example below for how this plan may be implemented.
The Last Mile (a.k.a, The Last 6,000 Points)
Recall that you'll have 104,000 points after meeting the minimum spend requirements for the two credit cards and receiving the sign-up bonuses. This still leaves you 6,000 points shy of the requirements for the Companion Pass.
You could reach this naturally as you spend on the card, but it may take a while to spend another $6,000 on the card. Alternatively, you can pay for points outright. Unfortunately, you can't buy Southwest points directly and have them count for the Pass, but you can buy hotel points and transfer them to Southwest. I bought 18,000 Choice Hotels points and transferred them to 6,000 Southwest Points. (You can transfer 3 Choice points for 1 Rapid Rewards points.)
This only cost me $198 rather than spending $6,000 naturally over time.
Example Credit Card Rewards Strategy
In theory, with the Patient Plan you could spread out the two cards as far apart as you want. However, since the Companion Pass expires on Dec 31st on the year after you receive it, you'd ideally receive it as early in the year as possible. If you receive it on January 1st, you get to enjoy it for a full two years. However, if you receive it on December 1st, you only get to enjoy it for a little over a year.
So if you plan out your strategy, and the 50k sign-up bonus is available for each card in the right time-frame, you could do something like this:
October: Apply for the Southwest Plus credit card (cost $69 for annual fee in first billing cycle)
November: Spend $667 on Plus
December: Spend $667 on Plus
January: Spend $667 on Plus (before the 90th day – MUST finish the minimum spend IN Jan)
January: Apply for Southwest Premier card (cost $99 annual fee in first billing cycle)
February: Receive 50,000 points from Plus – you now have 52,000 points (including spending)
February: Spend $667 on Premier
March: Spend $667 on Premier
April: Spend $667 on Premier (before the 90th day is up)
May: Receive 50,000 points from Premier – you now have 104,000 points (including spending)
May: Pay $198 for 18,000 Choice Hotels Points, transfer to Southwest for 6,000 points
June: Receive the Southwest Companion Pass!
Total Costs? $69 + $99 + $198 = $366
Total Rewards? 110,000 points + Southwest Companion Pass!
=> Approx $3,674 in flights (plus ½ off any additional flights)!**
Yup, a measly 1000% return! The stock market can't touch this!

** Southwest points valued at 1.67 cents each. Companion pass doubles rewards.
(110000 * $0.0167 * 2 = $3,674)